Croatia elects its first female president
Comments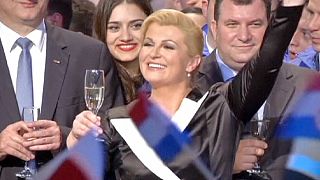 Croatia has elected its first woman president.
The conservative opposition challenger Kolinda Grabar-Kitarovic won by the narrowest of margins of just one percentage point.
The 46-year-old is a former foreign minister and assistant to the NATO secretary general.
Her wining of the largely ceremonial job signifies a possible shift to the right after voter discontent with Croatia's economic decline.
The election has been seen as a key test for the main parties ahead of parliamentary elections widely expected to be held at the end of 2015.