'Zero tolerance on terror', urges Israel's Naftali Bennett
Comments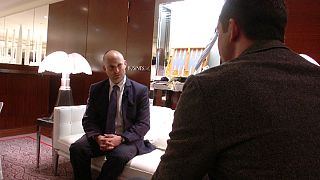 As France comes to terms with two deadly attacks in Paris, international leaders converged on the capital to march in solidarity with the victims.
Israeli Economy Minister Naftali Bennett was among the visiting dignitaries. He told euronews' James Franey that Europe must adopt a zero tolerance policy on terrorist attacks.
Naftali Bennett, Israeli Economy Minister:
"In terms of what I expect of the free world and Europe in particular, is first and foremost to realise what we are facing. Not pretend that this is not Islamic terror. This is Islamic terror, call it what it is, because if you don't define it as Islamic terror, but just as some general terror, there is no way you can fight back."
James Franey, euronews:
"But isn't the danger with that, that could be seen as collectively blaming all Muslims for terror?"
Naftali Bennett:
"No, I'm not blaming all Muslims. Obviously the overriding majority of Muslims are not supportive of terror. But the majority of terrorists are Muslim. That's a fact. And what we need is to fight back.
"I think there is a degree of naïvity in Europe. I think there is a desire under the guise of political correctness to sort of understand the motives of these terrorists. We should have zero tolerance to any terror attacks. Zero tolerance. I don't want to understand them, I want to beat them. We need to fight terror and win. We've done it in Israel, and it now needs to happen in Europe."
euronews:
"So what is your message for French Jews who might be scared of further attacks?"
Naftali Bennett:
"I met hundreds of French Jews today, and I see deep concern. My message to every French Jew: you have a home, the home is in Israel. Whether you decide to stay in France or come to Israel, the State of Israel views itself responsible for your welfare, for your security. If you decide to stay here, that's fine. If you decide to come to Israel, we'll embrace you."
euronews:
"The gunman at the kosher grocery store mentioned the plight of the Palestinians. Do you think this plays any role in these kind of terror attacks?"
Naftali Bennett:
"Absolutely not. There is one motivation, and that is Sharia law, that's the fanatic Islamic ideology. Trying to understand their grief is not the right approach. When you fight terrorism, there is only one approach, total victory."
Watch the full interview here