German paper that printed Charlie Hebdo cartoons firebombed
Comments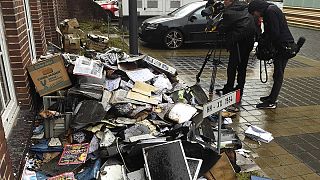 A German newspaper that published cartoons of the French satirical paper Charlie Hebdo has been firebombed.
Two people have reportedly been arrested after the attack on the Hamburger Morgenpost.
The paper is just one of numerous German dailies that have reprinted Charlie Hebdo cartoons after the massacre of its staff in Paris.
Police say an incendiary device was thrown into the newspaper's office in the early hours of Sunday morning.
The publication says no one was inside at the time.
Police arrested two people close to the scene.