Charlie Hebdo: Millions unite in support of free speech
Comments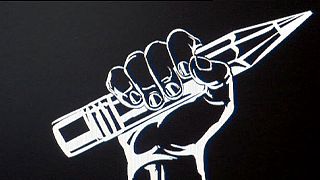 On Friday night (January 9) the Arc de Triomphe was the latest monument in the French capital to show support for the satirical magazine.
#parisestcharlie#JeSuisCharlie#NousSommesTousCharlie Via Sight Seeker's Delight pic.twitter.com/zaF1zhPVPO

— Haven in Paris (@HaveninParis) January 9, 2015
The Charlie Hebdo website has been inundated with traffic since Wednesday's fatal attack.
Its host reports more than a million and a half viewers clicked onto the site within the space of a few hours – a number it is not designed to cope with.
Millions have also taken to social media in solidarity with the victims of the shooting. At its height, the hashtag #JeSuisCharlie – "I am Charlie" – was tweeted 6,500 times per minute.
UPDATED: #JeSuisCharlie spreads around the world on Twitter http://t.co/bKMjDaUkL0pic.twitter.com/o7d01UZHzZ

— Twitter Data (@TwitterData) January 9, 2015
Highlighting the importance of free speech, the slogan has united people worldwide.
By 7.15pm, Paris time, there had been 2.1m Tweets for #JeSuisCharlie (via @TwitterFrance) http://t.co/glckIFFNG4pic.twitter.com/TFUxnE26EM

— Twitter Data (@TwitterData) January 7, 2015
Rallies have been organised worldwide in remembrance of those who died in the attacks; a further sign of the international impact of the bloody events in France.
Euronews, Lyon, France
#euronews went black during the minute of silence. Proud of being part of it! #JeSuisCharliepic.twitter.com/kRZwSk1EwN

— Tiago Braga Marques (@tbmarques) January 8, 2015
Belfast, Northern Ireland
RT #JeSuisCharlie silent vigil tonight at Writers Square #Belfast 7pm. Bring candles. Please RT! pic.twitter.com/gCI9ZBwPZ3

— Love Belfast ❤️ (@love_belfast) January 8, 2015
Istanbul, Turkey
Photos: #JeSuisCharlie goes global http://t.co/fI0Fu8fiVPpic.twitter.com/XOJqHSd3fP

— Al Jazeera America (@ajam) January 8, 2015
Kyiv, Ukraine
#CharlieHebdo improvised memorial is growing bigger at the French embassy in Kyiv, Ukraine #JeSuisCharliepic.twitter.com/oTOTOHy0Am

— Hromadske (@Hromadske) January 8, 2015
London, UK
Pens aloft. UK MPs, peers and Parliamentary staff stand in solidarity with the people of France. #JeSuisCharliepic.twitter.com/ztJPZedJB7

— The Labour Party (@UKLabour) January 8, 2015
Melbourne, Australia
thank you so much Melbourne. ❤️ #JeSuisCharliepic.twitter.com/2rCzaBSFX2

— L | ✏️ (@janoschrist) January 8, 2015