Boston chosen as US bid city for 2024 Games
Comments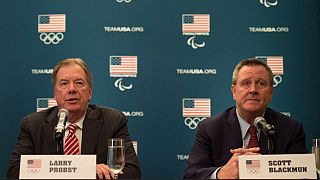 Boston was chosen to be the US bid city for the 2024 Summer Games Thursday.
In a surprising move, the US Olympic Committee did not opt for Los Angeles or San Francisco, the two cities considered as the safest options but rather chose the capital of Massachusetts, hoping that a compact bid plan and their g major events such as the Boston Marathon may be enough to win over the International Olympic Committee's executives.
"Today's selection by the USOC is the beginning of the incredible opportunity for Boston," said the city's bid chairman John Fish. "A Boston Games can be one of the most innovative, sustainable and exciting in history and will inspire the next generation of leaders here and around the world."
However, Boston was also the only city where there were anti-Olympics protests. The No Boston Olympics Campaign quickly stressed following the announcement that the priorities should be safe communities and good education.
"An Olympics … threatens to divert resources and attention away from these challenges — all for a chance to host an event that economists say does not leave local economies better off," a statement from the group said.
Boston will be the second city to bid for the 2024 games after Rome announced their decision late last year. Germany is expected to submit either Hamburg, Munich or Berlin this spring while there are reports of France and South Africa also considering bidding.
America last hosted the Summer Games 28 years ago while the United States' last two bid attempts ended in fourth place finishes for New York and Chicago.
The IOC will vote and decide the host of the 2024 Olympics in September.
By Hugo Lowell