Several mosque attacks reported following Charlie Hebdo massacre
Comments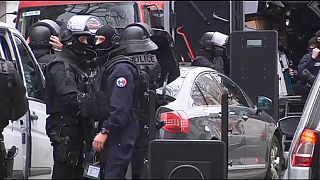 French Interior Minister Bernard Cazeneuve says there is no link "at this stage" between a deadly attack on Paris magazine Charlie Hebdo and a shooting on Thursday morning in Montrouge in which a police officer died from her injuries.
In a televised press conference, he says the threat in France remains "very serious" as police continue the hunt for Wednesday's killers but warns: "We shall not tolerate any threat against a place of religion or hostile demonstration against the French people because of their origin or their religion."
Attacks on mosques were also reported at several locations as well as a criminal explosion at a kebab shop near a place of worship.
Several training grenades were thrown into the courtyard of a mosque in the French city of Le Mans.
One exploded, but no injuries were reported.
Police cordoned off the building. There have been no reports of arrests.
A "criminal" explosion occurred early on Thursday morning at a kebab shop near a mosque in the eastern French town of Villefranche-sur-Saone, officials said, but left no casualties.
"It is a criminal act," a local official told Agence France-Presse news agency, adding that a police investigation has been opened. No link was suggested with the Paris attack a day earlier.