Armed Charlie Hebdo attack suspects 'located' near Paris
Comments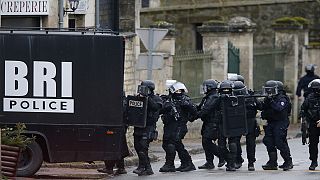 Two suspects in the Charlie Hebdo killings have been located in the Aisne region, east of Paris, AFP has reported.
The duo, who are armed, were found on Thursday morning, a source close to the operation reported, according to the news agency.
Earlier police identified two suspects they wanted to track down over the killings – Frenchmen Said and Cherif Kouachi.
It is unclear if the suspects located in Aisne are the Kouachi brothers.
It came after a police officer died in southern Paris following a shootout. But no link has yet been made between that and the Charlie Hebdo killings manhunt.
Live text updates
On Wednesday evening a large operation involving heavily armed officers and helicopters was reportedly focusing on the city of Reims.
An official at the Paris prosecutor's office has since said a third suspect, a teenager had turned himself in at a police station, near the Belgium border.
Across the country security has been stepped up in the wake of the attack with the government declaring the highest state of alert at transport hubs, religious sites media offices and department stores.