Francois Hollande leads a minute of silence for a nation in mourning
Comments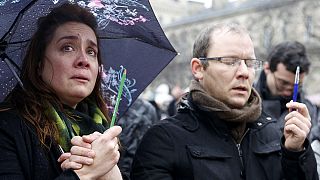 French President Francois Hollande led a minute of silence held across the country. He joined police officers at the Prefecture of Police in Paris for the ceremony.
Meanwhile large crowds gathered in the rain outside the Notre Dame cathedral in the capital.
#Paris, now. In front of Notre-Dame. #silence#charliehebdopic.twitter.com/6EP3Vci23H

— Frédéric Says (@FredericSays) January 8, 2015
France declared a day of mourning for those killed police officers shot dead on Wednesday morning (January 7) by black-hooded gunmen using Kalashnikov assault rifles. French tricolour flags flew at half mast throughout the country.
Police extended a manhunt on Thursday for two brothers suspected of carrying out the attacks at the offices of the Charlie Hebdo publication in Paris in a presumed Islamist militant strike.
French PM Manuel Valls sang the country's national anthem outside his official Paris residence, Matignon Palace, as a mark of respect.
Members of France's National Assembly also sang the anthem outside their building.
In Italy, parliament speaker Laura Boldrini urged European countries to "show resolve" in defending freedom of speech.
"Faced with an attack that marks a very serious development in the name of Islamic terrorism, it is of utmost importance that European states show absolute resolve in defending the fundamental liberties of our societies, as well as the values, the values which make our continent a point of reference for the entire world," she said before standing.
Italy's Senate also stood for one minute of silence.
"In the name of the Senate we send to France our sympathy for the victims and our solidarity following the attack against an institution and against the freedom of the press," said Senate speaker Pietro Grasso before standing.
Spain has condemned the attack, and its interior ministry announced it had raised the perceived security threat level after the attack on the French magazine Charlie Hebdo, increasing security around key government buildings, nuclear stations and transport hubs.
"Today is a day to honour freedom of speech and to condemn a vile and savage act," said Jesus Posada, Spain's parliament speaker.
Jermone Bonnafont, the French ambassador to Spain, was also present at the minute of silence in Madrid.
"It's not only an attack against a symbolic paper and freedom of expression. It is also an attack against our democracies and everyone who believes in our values. We value Spain's support greatly in these circumstances," he said to media gathered around parliament.
Both Charlie Hebdo's founder and its current editor-in-chief were among those killed.