Europe's front pages today show rare unanimity as they proclaim united we stand in defence of free speech
Comments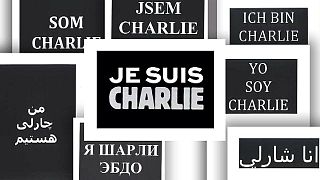 Main picture (above): the homepage of the Charlie Hebdo website
Europe's front pages today show a rare unanimity as they proclaim We are all Charlie, said Libération.
L'Express led with 'This is what they died for', a collection of Charlie's greatest covers.
While sporting daily L'equipe, like many others, used a Charlie artist
others stood back to look at society's response.
It seemed at times some were almost shamed into showing cartoons they had not dared to do before.
Others countered with slogans proclaiming faith in the values the men of violence had trampled.
Some chose to focus on the photos, and the moment of cold-blooded murder.
They all brandish the tools of their trade in defiance, or in chilling reminder of past atrocities, while at least one brandishes something that needs no caption.