Turkey suicide bomb claimed for 2013 killing of 15-year-old Berkin Elvan
Comments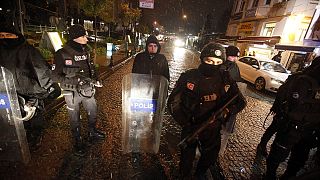 Tuesday's suicide bomb attack on a police station in Istanbul has been claimed by the Revolutionary People's Liberation Party-Front (DHKP-C) a Marxist-Leninist group militant formed in Turkey in 1978.
It said the bombing was against the ruling AK Party over the killing of 15-year-old Berklin Elvan. He died last year after nine months in coma from a head wound he got during an anti-government protest.
The teenager got caught up in street clashes, reportedly on his way to buy groceries for his family. He was hit on the head by a tear-gas canister.
January 5 would have been Elvan's 16th birthday.
Gezi victim Berkin Elvan remembered with grief on 16th birthday http://t.co/WW0zIVPkTcpic.twitter.com/xTsKNlJxra

— Today's Zaman (@todayszamancom) January 5, 2015
In 2013 the DHKP-C carried out a rocket attack on the AK Party and a suicide attack against the US Embassy in Ankara.
In Tuesday's attack the female suicide bomber went into the police station saying in English that she had lost her purse. Then she blew herself up.
Turkish authorities said one police officer was killed. Another was wounded.
It is the second attack on police in a week in Istanbul.
On Thursday (January 1), police subdued a man after he threw grenades and fired a weapon at officers near the prime minister's office.
The same leftist group said it carried out that attack.
The Revolutionary People's Liberation Party-Front is considered a terrorist organisation by Turkey, the US and the European Union.