"Crisis what crisis?" - Putin and Medvedev celebrate a Russian orthodox Christmas
Comments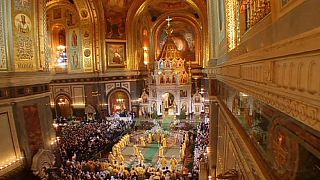 Russians have been celebrating the orthodox Christian Christmas amid economic and political concerns.
During midnight mass in Moscow's Cathedral of Christ the Saviour Patriarch Kyrill prayed for the people to rely on the strength of God to overcome their troubles.
The mass was attended by Prime Minister Dimitry Medvedev and his wife Svetlana.
According to the Orthodox Church
the Christmas holiday is celebrated on January 6 and 7 in line with the Julian calendar.
Meanwhile President Vladimir Putin celebrated the holiday in Otradnoye village near the southern city of Voronezh.
Putin sent his greetings to the congregation and personally thanked the local Archpriest for helping restore the building and open a church-run orphanage.
There is also reportedly a large community of Ukrainians from the Donbass region living in church run-refuge in the area..