Obama pledges help to Mexico president to fight drug cartels
Comments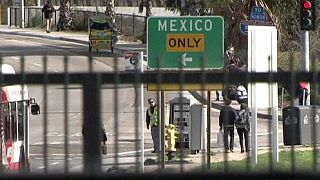 Mexican President Enrique Pena Nieto has praised Obama's move to protect immigrants from deportation as he began his visit to Washington on Tuesday. He said Mexico would do everything in its power to help secure the US-Mexican border including a new initiative to help immigrants get their birth certificates without returning to Mexico.
He also welcomed the shift which re-established diplomatic ties between Cuba and the US on the day Havana released 53 political prisoners.
But the compliments couldn't distract from the scandal surrounding the case of 43 missing students in the state of Iguala, which has created the biggest crisis of Nieto's presidency, and forced Obama into an uncomfortable corner.
"Obviously we've been following here in the United States some of the tragic events surrounding the students whose lives were lost and President Pena Nieto was able to describe to me the reform program that he has initiated around these," Obama said as the pair met at the White House. He went on to say that the US is committed to helping Mexico eliminate drug cartels.
The case has sparked nationwide protests, with some calling for Nieto to resign over perceived institutional failures in the investigation.
Earlier on Tuesday the wife of the ex-mayor of Iguala was formally charged with organised crime and money laundering. Prosecutors say that Maria de los Angeles Pineda's brothers were in a drug gang operating in the town. They said that police handed the students over to the gang following clashes in September. Members have confessed that the mayor had ordered the police to crack down on the students to stop them from disrupting his wife's political rally.
The fate of the missing students remains a mystery, so far only one body has been identified by forensic experts from the charred remains found at a landfill.