As Iraq marks Army Day ISIL suicide bombers kill 23 soldiers in Anbar attack
Comments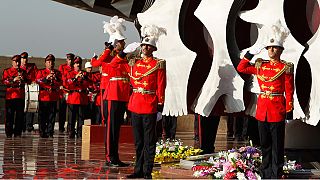 As Iraq celebrates Army Day the force's future hangs in the balance as the country faces the threat from ISIL and other security services, such as the The Iraqi Ministry of Interior, gain in strength and influence.
The days of Saddam's bluster on Army Day are long gone.
The change from a Sunni-dominated military to an inclusive entity is a long and difficult road.
The Defence Minister Haider al-Abadi spoke of his mission:
"We are still at the beginning and we are full of hope that we will complete it with hard work. We need to account for and rationalise all the resources, whether they are financial or material ones, some of them are known to you and others will remain classified."
The reality of everyday Iraq shattered any celebratory mood after two ISIL suicide bombers killed 23 members of the security services in Anbar province.