Under-strain Lebanon imposes visa restrictions on Syrian refugees
Comments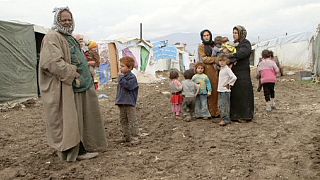 The Lebanese, struggling to cope with the more than a million and a half refugees from Syria they are currently looking after on their soil, are imposing border restrictions on Syrians from today.
Visas will now be required as refugees have swollen Lebanon's population by a quarter.
"I an a UN-registered refugee. I have a son of military service age who can't join me here. As his father I could go back and do his papers, but I fear they won't let me back in," said one man.
"I don't understand this visa thing. I think it'll be valid for three months, then after hopefully it'll be fine. All we want is the problem between eastern and western Ghouta to be sorted out, then we'll be able to go back," said a woman.
Lebanon is facing a serious long-term problem with the mass of refugees growing by the day, putting strain on its fragile infrastructures, and adding another uncertain political element to Lebanon's already tense and delicately-balanced civil society.