Boston Marathon bombing trial: Jury selection begins
Comments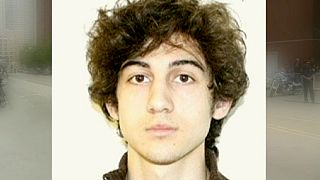 The trial of Dzhokhar Tsarnaev, the man accused of the Boston Marathon bombing, begins today, (Monday January 5), starting with jury selection.
Tsarnaev's lawyers have feared it will be difficult to select 12 impartial jurors and had made attempts to have the venue of the trial moved out of Boston without success.
Judge George O'Toole needs to choose a panel from over 1,000 potential jurors which will decide Tsarnaev's fate based solely on the evidence presented in court.
On the streets of Boston many are still unsure if they will follow the trial.
"If it's all over the news and everything I'm sure it's going to be a difficult moment for everyone," said one resident.
"It's going to be difficult to follow, but it's going to be a good thing to do in my opinion. Get this over with, get this in the past, and start anew," said another.
"It's going to be painful, of course, to relive something so traumatic but I think: who could handle it better than the citizens of Boston?" said another Boston resident.
Tsarnaev, 21, is accused of detonating two bombs at the finish line of the Boston Marathon in 2013 killing three people and wounding 260 others.
The defendant could get the death penalty if convicted. He has pleaded not guilty to all 30 charges against him.
The trial is expected to last between three and five months.
Memorial at the site of Boston Marathon bombings. Hopefully school kids made this.. #BostonStrongWBZ</a> <a href="https://twitter.com/WEEI">WEEIpic.twitter.com/vfhvlnk5O6

— Gene Washington (@Genius443) May 22, 2014