Syrian migrants paid thousands to board decrepit ship abandoned by crew
Comments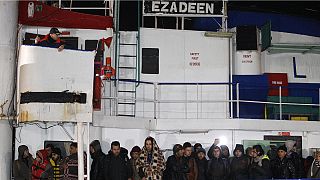 The desperate conditions inside the Ezadeen have been revealed as investigators board the cargo ship that was carrying some 360 migrants when it was abandoned in rough seas by its crew off Italy.
Syrians seeking sanctuary from their war-torn country paid up to 6,500 euros each to traffickers for a place on the decrepit vessel, licensed only to carry livestock.
Images from on board show that it was strewn with steel containers, broken chairs, piles of rubbish bags, empty gasoline tanks and scattered clothes and belongings.
Details are still emerging of the ship's supposed movements before it set off from Turkey with its human cargo.
The Sierra Leone flagged vessel was placed on a collision court with Italy's coast, in the second such incident in a week.
With the ship towed ashore to the southern Italian port of Corigliano Calabro, passengers have been telling their stories.
Syrian refugee Mohammed said: "I was studying at a dental school in Aleppo. I was in the last year but I went out because of the awful situation in Syria."
This latest tactic by human traffickers has prompted calls for a stronger EU crackdown on smugglers.
"Smugglers are finding new routes to Europe and are employing new methods in order to exploit desperate people," said Dimitris Avramopoulos, EU Commissioner for Migration. "These events underscore the need for decisive and coordinated EU-wide action."
He said the European Union was preparing a new migration plan to be presented "in due course", and which would make the fight against smugglers a priority.
Now being transferred to immigration centres, the Ezadeen's passengers, including 62 minors, are said to be in a good condition.