Italian investigators in second inspection of burnt-out Norman Atlantic ferry
Comments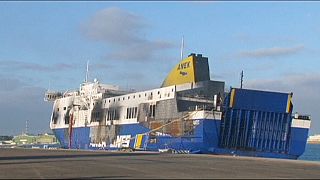 Investigators have again boarded the burned-out ferry the Norman Atlantic in the southern Italian port of Brindisi, amid reports that some passengers may still be missing.
Italian media say a prosecutor, Ettore Cardinali, has been carrying out a second inspection following another examination on Friday.
At least 11 people are known to have died; Italian authorities estimate that another 10 to 15 could be missing.
It's feared the bodies of migrants could be found in the hold.
The captain of the tug boat which towed the ferry into port said weather conditions had made the task very challenging.
"(The winds) were between force seven and force eight throughout the operation.
Last night we finished after midnight trying to make sure the Norman Atlantic was safe, and it is now," Pietro Dell'Aquila said.
Investigators have recovered black box recorders but until now haven't been able to enter the car deck where the fire started.
The ship caught fire nearly a week ago while sailing from Greece.
It took rescue teams 36 hours to evacuate the nearly 500 passengers and crew amid strong winds and stormy seas.
Six people — the captain, three crew members, the ship's operator and its owner — are under investigation by a Bari court for multiple manslaughter and causing a ship disaster, judicial sources said on Friday.