Italian coast guards board new abandoned migrant ship
Comments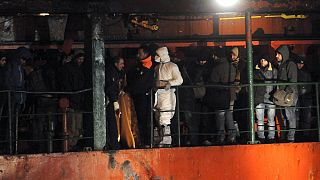 The Italian military says it has taken control of a cargo ship carrying some 450 migrants in the Mediterannean after it had been abandoned by human smugglers.
Six members of the coastguard were winched onto the vessel from a helicopter.
The Ezadeen, sailing under a Sierra Leone flag, is said to have come from a Turkish port and was intercepted off the Calabrian coast.
An Icelandic ship has been towing it towards Italy as part of a new European patrol force – whose limited resources and authority are said by some observers to be encouraging the traffickers.
It is the second such case in three days. Earlier this week hundreds of migrants, mostly Syrian refugees, arrived in Italy after being abandoned by their ship's crew.