10th Annual Key West Daschund Walk
Comments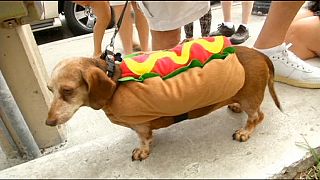 About 175 dogs and their owners participated tenth annual Key West Dachshund Walk.
Dachshunds are the short legged, long bodied canines that are part of the hound family in the species.
The dogs were dressed in all types of zany outfits and accessories. The highlights were a "horse" carrying his tiny jockey figure, "wieners" in over-sized buns and ketchup, superheroes, diminutive "dinosaurs" and the best of all, a dog dressed in a sombrero and poncho.