Easyjet France cancels 30% of flights on New Year's Eve
Comments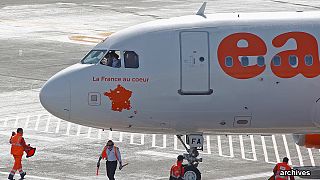 Easyjet has cancelled 30% of their flights to and from France on New Year's Eve, due to a strike from the French on-board personnel unions.
The disruption will continue until January 1st, 23:59 CET. In total, 70 flights will be cancelled on December 31st, and 68 on January 1st, respectively 30% and 26% of the low-cost airline's French flights.
The most affected airports on New Year's Eve will be Roissy Charles-de-Gaulle, Orly and Lyon with respectively 24, 14 and 20 cancellations. On January 1st, Lyon, with 22 cancellations, Roissy, 18, and Nice, 16, will be the most affected.
Profits soaring
Unions claim that whereas operating profits have risen by more than 20 per cent, staff are being denied benefits.
"Some rights for all French employees, such as "1% housing" (employers' obligations towards housing costs), access to professional training and profit-sharing – despite the fact that Easyjet has had an agreement on this since 2009 – we are not getting these rights," said Laurent Nicolas, a delegate from the
SNPNC
-FO union.
In November, Easyjet reported a 21.5% increase in annual profits to 745 million euros from about 613 million euros in 2013 . The airline transported 7% more travellers this year, a total of 64.8 millions in 2014.
The current strike follows an initial stoppage on Christmas Day (December 25) and Boxing Day (December 26), which led to nearly 40 cancellations at the Irish airline's French operations on December 26.
Some passengers took to social networks to voice their opinions and explain the consequences of the strike:
easyJet</a> How do you explain a new year eve ruined because of your staff&#39;s strike ? 300€ to come back to France from Milan today ! Awful !!!</p>&mdash; Clara Pelet (pelet_clara) diciembre 31, 2014
easyJet</a> flight changed due to strike action + further delays at the airport so once again having to pay for alternate travel arrangements</p>&mdash; FOBatman (Lowayyz) enero 1, 2015
@easyJet I'm just saying with your strike i had to buy a train ticket full price. So i will never again buy a ticket from your company !

— Antoine Gamelin (@Anxic) 31 Décembre 2014
@easyJet lamentable. only notified 12 hours before the flight. aireurope now costs twice, do you requite you? It was my first&last flight!!

— Dario del Alcazar (@darioapt) 30 Décembre 2014
(with agencies)