USA: unarmed black man Enzell Ford shot three times by police says report
Comments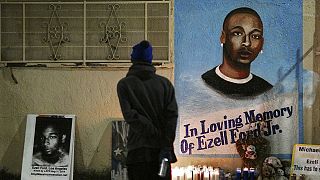 An unarmed black man was shot three times by police in Los Angeles, according to a coroner's report released four months after his death.
The report also reveals that Enzell Ford, who had a mental illness, had a gun muzzle imprint on a wound to his back and abrasions to his left arm, forearm and elbow.
The post-mortem, first obtained by the Los Angeles Times, officially classifies the death as a murder.
The 25-year-old was shot dead on August 11 after he allegedly lunged at a police officer's gun. Details about why the young man was stopped by two officers assigned to an anti-gang unit in his south Los Angeles neighbourhood are sketchy.
A statement released shortly after the incident said two officers tried to stop him on a sidewalk but he "continued walking and made suspicious movements". He allegedly then went on to knock one of the police officers to the ground.
Police say the findings accord with the officers' initial statements. Charlie Beck, chief of police at the Los Angeles Police Department, said: "There is nothing in the coroner's report that is inconsistent with the statements given to us by the officers. We will find out the truth of what happened on that August night."
Beck defended the delay of the coroner's report: "We want witnesses' statements to be as untainted as possible. That is why we have held the autopsy. But we have no intention of denying the family or this community access to that autopsy forever."
Ford's parents have launched a federal civil rights lawsuit in which they claimed the police knew that their son had a mental illness.
The death, which took place two days after the shooting of Michael Brown in Ferguson, Missouri, sparked protests and demonstrations among the local African-American community.