Syriza leader Tsipras says Greeks not foreign interests should decide future
Comments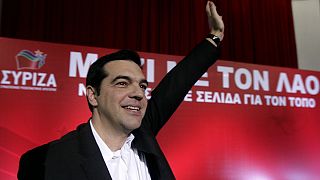 The Greek opposition leader Alexis Tsipras has told supporters in Athens it's time for the people, not foreign interests, to determine their future – as the country heads for snap elections.
His party Syriza, which leads opinion polls, wants to wipe out much of the national debt and cancel the austerity terms of an international bailout that Greece still needs to pay its bills.
The elections are compulsory by law, following parliament's failure to choose a new president.
They throw the country into a new period of turmoil just as it appears to be putting the worst of a six-year economic crisis behind it.
Announcing the election date as January 25, the Prime Minister Antonis Samaras – who'd warned an election would be damaging – urged Greeks to vote for stability and not jeopardise the country's place in Europe.
The main Athens stock exchange fell, underlining the potential volatility facing markets.
If Syriza is elected, it'll be the first time a party comes to power in Europe dedicated to overturning the austerity approach.
But it's thought whoever wins may struggle to find coalition partners.