Greece faces snap election after MPs fail to elect a new president
Comments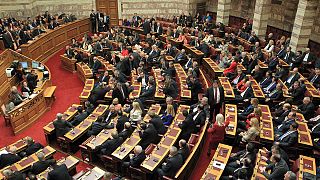 Greece is facing a snap election after MPs failed to elect a new president in a tight parliamentary ballot.
The ruling coalition's preferred choice for the post, the former European Commission Stavros Dimas, fell short of the 180 vote majority needed to become president.
In a third and final round of voting, Dimas scored 168 votes, the same result he achieved in the 2nd round.
The coalition needed the support of smaller parties and independents, but the ruling coalition failed to get the numbers despite weeks of campaigning and lobbying.
Meetings had been held over the weekend with some independent MPs, but media reports had already cited coalition sources as saying achieving the target would be difficult.
Ruling party officials had also denied some reports that the government had been in talks with lawmakers from the right-wing Golden Dawn party, which is under investigation by the police.
Dimas was quoted as saying that under no circumstances would he accept to be elected president with votes from Golden Dawn.
Under Greek law, a snap election must now be called, leaving the country in a state of political uncertainty for weeks. An election is expected within the next month.
Samaras says he will see the outgoing president, Karolos Papoulias, on Tuesday, and will seek an election as soon as possible. Officials have said the earliest date in terms of practicalities and logistics is January 25, but some earlier reports said a more likely date was early in February.
This is dangerous for the Greek Prime Minister Antonis Samaras and his conservative centre-left coalition.
Recent polls indicate the ruling coalition trails the left-wing Syriza party which wants to renegotiate Greece's international bailout and roll back controversial austerity measures.
After the result was announced, Syriza's leader Alexis Tsipras said: "With the will of our people, in a few days, bailouts tied to austerity will be a thing of the past.The future has already begun."
One recent opinion poll over the weekend put Syriza ahead of Samaras' New Democracy party by 3.3 points.
The markets have been jittery over fears the EU and IMF bailout could be derailed by Syriza coming to power.
Greek Prime minister #Samaras says he will call early elections on January 25 (AFP) #ekloges2015#PtDpic.twitter.com/8V10SHQGx6

— euronews (@euronews) December 29, 2014
Samaras: People will learn where irresponsibility of opposition leads & what interests it serves #Greece

— Nick Malkoutzis (@NickMalkoutzis) December 29, 2014
European stocks drop as Greece's ASE tumbles after vote results http://t.co/JrcXN7krDb

— Kathimerini English (@ekathimerini) December 29, 2014
Greece set for snap general election after failing to elect president: Greece is heading for early… http://t.co/Kl7BM98Ykh#tech#news

— The_News_DIVA (@The_News_DIVA) December 29, 2014
Greece heads to early elections, faces political uncertainty after presidential vote fails: http://t.co/zdcLHs1dFp

— The Associated Press (@AP) December 29, 2014
What Syriza will do? Tsipras vows to break Greece's 'bad spell' #greecehttp://t.co/PkXKxEsJzV

— Alastair Macdonald (@macdonaldrtr) December 29, 2014
Greek elections it is. This explains why Greece no longer threatens euro zone survival. But expect some jitters! http://t.co/IRCWwft82e

— Mike Peacock (@MikePReuters) December 29, 2014