Shopping centre fire kills 13 in Pakistan
Comments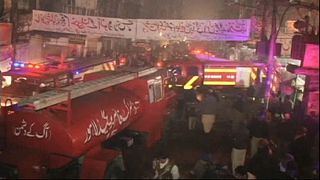 At least 13 people were killed after a fire broke out at a shopping centre in Pakistan.
It took firefighters several hours to extinguish the blaze in the eastern city of Lahore.
Local media reported that one woman and a child were among the dead.
Officials say the victims died of suffocation and burns.
A day earlier, a huge fire devastated a shopping mall in Karachi.