Putin critic Alexei Navalny given suspended prison sentence
Comments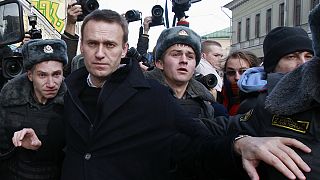 Kremlin critic Alexei Navalny has been given a suspended sentence of three and a half years.
His brother Oleg has been jailed for three and a half years.
One of Vladimir Putin's fiercest critics, Navalny was facing up to 10 years in prison.
He became one of the leaders of high profile anti-government protests in 2012, around the time Putin decided to run for a third term as Russian president.
The Navalny brothers were accused of stealing 30 million roubles from two companies between 2008 and 2012. The brothers say the charges against them are untrue and politically motivated.
Navalny's sentencing was brought forward after his supporters planned a big protest rally on the original date of verdict.