Possible debris from missing Air Asia flight spotted in Java Sea
Comments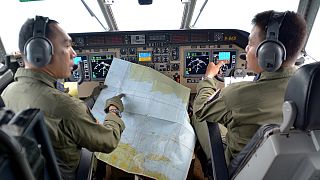 Possible debris from the Air Asia flight which vanished on Sunday has been spotted in the Java Sea.
Indonesian officials say they have seen objects resembling an emergency slide and plane door around 10 kilometres from where the plane was last seen on radar.
An Indonesian air force official said they had seen "about 10 big objects and many more small white-coloured objects which we could not photograph."
#AirAsia flight #QZ8501: More photos of possible plane debris in the sea http://t.co/maQHMpa7IRpic.twitter.com/nHc0jRpPrW

— The Straits Times (@STcom) 30 Décembre 2014
The search aircraft spotted the debris around 100 miles from Pangkalanbun in Indonesia. A chopper is now being sent in to take a clearer look.
One hundred and sixty two people were on board the AirAsia Flight 8501 when it vanished from radar on Sunday morning forty minutes after takeoff from Indonesia's second largest city Surabaya heading to Singapore.
Meteorologists say the airspace was full of "dense storm clouds" and the area around the flight path is in monsoon season at the moment.