Election rhetoric already flying in Greece ahead of forced snap election
Comments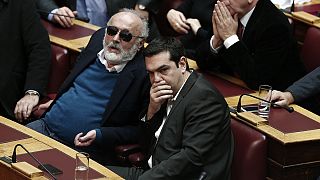 Electioneering has already begun in Greece after MPs failed to choose a new president, forcing a snap general election.
The leader of the opposition Syriza party told reporters the days of a government led by Antonis Samaras were numbered.
Alexis Tsipras, the leader of Syriza said: "Today the government of Mr. Samaras, which for 2.5 years ransacked our society and had already decided and agreed on new austerity measures, is over.
"With the will of the people, in the coming days, the laws on austerity will also become a thing of the past."
But Samaras appears confident that his coalition can do well in the snap election, even though Syriza is ahead in the polls.
Antonis Samaras, the Greek Prime Minister, said: "We managed to do a lot of things in the last two and a half years and to get very close to final redemption.
"People will not let us go back to crisis, to isolation, to deficits, to forced borrowing. People will not allow their own sacrifices to be lost."
The outgoing president, 85-year-old Karolos Papoulias, stays in office until early March.