Search operation underway for missing AirAsia flight
Comments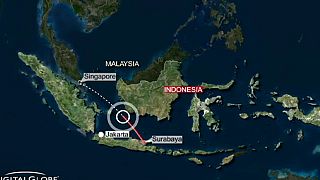 An Air Asia flight carrying 162 people on board from the Indonesian city of Surabaya to Singapore has lost contact with air traffic control.
Flight QZ 8501, an Airbus 320-200, lost contact with the Jakarta air traffic control tower around one hour into the two hour flight over the Java Sea.
The Indonesian transport ministry said the crew had requested to climb to 11,000 metres to avoid bad weather, however no distress signal was sent.
A search and rescue operation has been launched by Indonesia's air force. Neighbouring Malaysia and Singapore have offered to help find the missing jet.
In a statement released by Air Asia, the airline said most of those on board are Indonesian, but there are also three South Koreans, and one each from France, Malaysia and Singapore.
They added that the captain in command has 6,100 hours of flying time and the first officer almost 2,800 hours.
The aircraft had undergone its last scheduled maintenance on 16 November 2014.