Fatalities as cargo ships collide off Ravenna in Italian Adriatic
Comments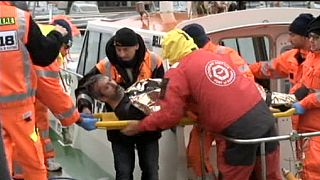 Italian rescuers were sent to help in the aftermath of a collision between a Turkish cargo ship with 11 crew members on board, and another vessel flying a Belize flag.
According to the mayor of the Italian port of Ravenna, two people have died, and another four are missing. Several more people have been rescued.
The accident happened in the middle of a storm about two kilometres offshore from the town.
Boats and helicopters were sent to help the two merchant ships, which collided in poor visibility due to foggy weather.
It came as Italian emergency services were already heavily involved in rescuing passengers from a ferry which caught fire en route from Greece.