Ukraine and pro-Russia rebels swap prisoners
Comments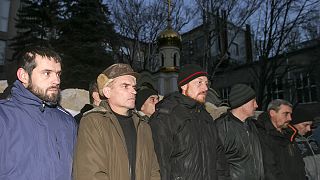 Ukrainian authorities and pro-Russia separatists have exchanged hundreds of prisoners as part of a peace plan.
The agreement to swap 150 Ukrainian servicemen for 222 rebels is seen as a major step towards easing hostilities in eastern Ukraine.
Fighting in the area between government forces, volunteer battalions and pro-Russia separatists has claimed more than 4,700 lives since last spring.
The exchange deal was agreed after peace talks between Ukraine, Russia, the separatists and the Organisation for Security and Cooperation in Europe (OSCE).
The exact number of prisoners being held by both sides is unclear, but Ukraine's military said earlier this month that around 600 Ukrainians were in rebel hands.