Swedish PM: Religious freedoms must be defended after latest mosque attack
Comments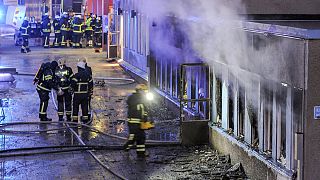 Sweden's prime minister says his country must stand up to threats against religious freedoms, in the wake of a Christmas Day mosque attack.
Five people were injured when the mosque in Eskilstuna caught fire on Thursday.
The blaze is being treated as arson and is the latest in a number of attacks against mosques in Sweden.
"It has been 12, one per month, which is far too much," said Prime Minister Stefan Lofven.
"(It's) totally unacceptable, and we also have had attacks against synagogues. It is very important that we stand strong for freedom of religion, to perform your religion without fear. A threat against that is a threat against our democracy."
Sweden is facing a fierce debate over immigration. The far right wants to cut the number of asylum seekers allowed into the country by 90 percent, while mainstream parties are set on preserving the country's liberal policy.