Schoolboy arrested for 'insulting' Turkish president released
Comments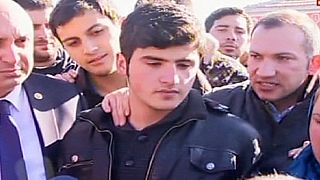 A Turkish teenager who was arrested at his school on Wednesday for allegedly insulting President Recep Tayyip Erdogan has been released from police custody.
The 16-year-old was met by his parents. His mother said: "I'm not ashamed of my son."
The boy, who has not been named because of Turkish laws that protect the identity of minors, remained defiant.
"We are not terrorists. We gave a promise while taking this path. We said we won't give up. We said we won't submit to fascist, hardline oppressions. We said we are soldiers of Mustafa Kemal. Therefore, we were arrested," he said.
He was referring to Mustafa Kemal Ataturk, the founder of modern, secular Turkey.
According to court papers seen by The Associated Press news agency, the boy made a speech at a left-wing rally in which he said the students did not regard Recep Tayyip Erdogan as the president but as the "thieving owner of the illegal palace".
His words referred to a corruption probe that was launched against Erdogan's inner-circle a year ago.
Riza Turmen, politician of the secular opposition Republican People's Party (CHP) denounced the boy's arrest as a violation of the UN charter on children's rights.
3/3 Çocukların sınıftan polis zoruyla çıkarılıp cezaevlerine konulduğu rejimler faşist rejimlerdir.

— Riza Turmen (@RizaTurmen) December 25, 2014
"Regimes taking children out of classes by police force and putting them in jail are fascist regimes," Mr Turmen, a former judge at the European Court of Human Rights, wrote on Twitter.
"This goes against the UN charter on children's rights," he said.