Georgian MPs exchange blows in Boxing Day parliament brawl
Comments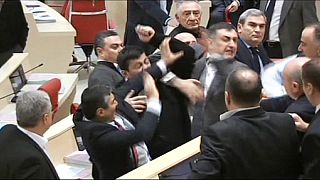 Politicians came to blows in the Georgian parliament on Boxing day over how they should decide the make-up of Georgian delegations in international institutions.
It all got a bit heated when opposition member Akaki Bobokhidze's swore in an address to ruling coalition MPs.
This drew insults and more swearing before the country's elected representatives jumped in trading blows, finishing in a full blown brawl.
Some MPs went as far as ripping out microphones and using them as weapons.
Medics were called to treat three injured politicians.
It's not the first time things have got physical. Last year two Georgian MPs came to blows during a political debate live on national television.