Snow in Moscow: Winter wonderland or traffic hell
Comments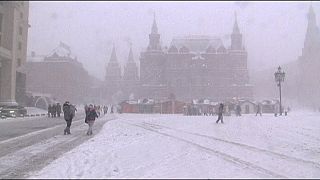 The Russian capital has been blanketed in thick snow, making it a winter wonderland for tourists and a nightmare for commuters.
It is the first heavy snowfall of the season and temperatures are expected to plunge to minus 15 Celsius.
"Wonderful, it is a great day for tourists, with the snow. Wonderful," said Sandrine who is visiting Moscow from France.
"I think, the snow is just on time. There is actually a super mood, exactly what we've been waiting for," said one Muscovite.
Walking in a Winter Wonderland #vsco#VSCOcam#vscomoscow#moscow#redsquare#winter#snow#москваpic.twitter.com/k7cbzuh6Li

— Фото с Манежной (@MoscowManezhka) December 25, 2014
For others it was less of a blessing. December 25th is a normal working day as Russian's celebrate Christmas on January 7th
More than 150 flights were delayed or cancelled, and traffic jams reached their peak level of 10 out of 10.
Some members of the cabinet even missed the last meeting of the year.
goodBye Moscow♥♥#snow#travel#trains pic.twitter.com/MGoLzxGLa6

— R. Hobo (@RailYardHobo) December 25, 2014