Queen's Christmas speech praises Ebola doctors, calls for reconciliation
Comments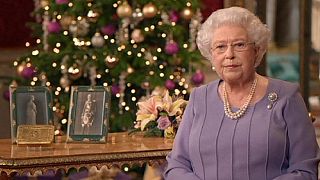 The Queen has used her traditional Christmas Day broadcast to praise medical workers fighting Ebola in west Africa.
"What was once a prison during the Troubles is now a place of hope and fresh purpose; a reminder of what is possible when people reach out to one another, rather like the couple in the sculpture."
She said she had been "deeply touched" by their "selflessness".
The Queen also called for reconciliation throughout the world, recalling her visit to Belfast during the year, particularly to the former Crumlin Road Gaol.
"A place of hope and fresh purpose". HM The Queen describes visiting Crumlin Road Gaol as a highlight of 2014 in… http://t.co/ScrB6hAMVG

— Crumlin Road Gaol (@CrumlinRoadGaol) December 25, 2014
On the subject of reconciliation, the Queen said: "In the ruins of the old Coventry Cathedral is a sculpture of a man and a woman reaching out to embrace each other. The sculptor was inspired by the story of a woman who crossed Europe on foot after the war to find her husband. Casts of the same sculpture can be found in Belfast and Berlin, and it is simply called Reconciliation."
G8t 2hear #HM talking abti #CoventryCathedral & a statue i'm familiar with #reconciliationbaldynotion</a> <a href="https://twitter.com/hashtag/QueensSpeech?src=hash">#QueensSpeech</a> <a href="http://t.co/QXOprST5Jh">pic.twitter.com/QXOprST5Jh</a></p>&mdash; Hifsa Haroon-Iqbal (hhi1) December 25, 2014
She remarked about, "what's possible when people reach out to each other," and refered to the Scottish independence referendum.
"Of course, reconciliation takes different forms. In Scotland after the referendum many felt great disappointment, while others felt great relief; and bridging these differences will take time," she said in the televised broadcast.
The Queen celebrated the holiday with her husband Prince Philip and other family members at the Sandringham estate in England.
Crowds had gathered since early morning to catch a glimpse of the royals.
Many who hoped to see 17-month-old Prince George were disappointed. The royal toddler stayed at home because his mum Kate was afraid he was too "noisy".