Christians in Bethlehem reminded of the need to rebuild Gaza
Comments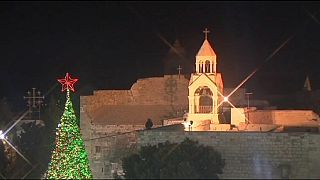 Bethlehem, the birthplace of Jesus, sees thousands of Christians converge at this time of year.
At a Christmas Eve mass at the Church of the Nativity, believers were reminded of the need to rebuild Gaza following the 50 day war last summer.
In the presence of Palestinian President Mahmoud Abbas, the congregation was told that the recent violence had achieved nothing.
Latin Patriarch Fouad Twal said:"All these sacrifices appear to be in vain, having changed nothing as regards the basic problem: the Israelis continue to live in fear and insecurity, while the Palestinians continue to demand their independence and freedom, and Gaza is waiting to be rebuilt for third time."
Palestinian officials say the international community hasn't honoured its commitment to pay for reconstruction efforts in Gaza.
Meanwhile, thousands of people attended a funeral for a Hamas gunman reportedly killed in a clash with Israeli forces.
Earlier on Wednesday, Israel fired on targets in Gaza after its troops came under attack by Palestinian snipers.