Yazidi return home to find mass graves
Comments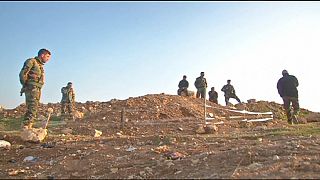 Yazidi refugees from the Iraqi village of Hardan returned to their homes for the first time on Tuesday after being driven out by Islamic militants in August.
They were hoping to find out what happened to their friends and family who were captured by ISIL. What they discovered confirmed their worst fears: four mounds of freshly dug earth they believe are mass graves.
"We don't know how many people are here but we know that 530 people from our village were arrested," explains one man, walking through the village.
"This is a mass grave," says 26-year-old Haydar Khalif, who is from Hardan. "My uncle and two of his sons along with 50 others from Hardan [are buried here]. They are all from my village."
Earlier this week, Amnesty International released a report detailing the physical and psychological abuse many Yazidi women and girls suffered at the hands of ISIL militants, including kidnap, rape and being sold into sexual slavery.
Entitled 'Escape from Hell' the report stresses the need to provide help and counseling to the severely traumatised women.