Ukrainian PM calls on rebels to fulfill Minsk peace deal
Comments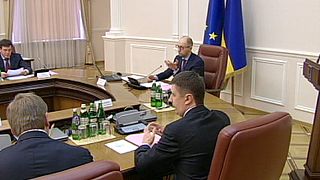 Ukrainian Prime Minister Arseniy Yatsenyuk has called on pro-Russian rebels to fulfill a ceasefire agreement reached in September.
He spoke as negotiators representing Ukraine, Russia, the Organisation for Security and Cooperation in Europe (OSCE) and eastern separatists met in Minsk for a new round of talks.
"It is important to fulfil the Minsk agreements. That's where the contact group is meeting. But contacts are not important. What is important are decisions. They should let in our humanitarian aid [to the eastern regions], implement the Minsk protocols, leave Ukrainian soil, and step-by-step we will stabilise the situation in the country," said Yatsenyuk.
Another meeting of the "contact group" is set for Friday which suggests no big decisions were made at Wednesday's session.