Father Christmases meet at Russia-Finland border
Comments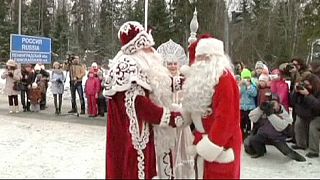 Russia's Father Frost and Finland's Father Christmas have had a festive meet-up on the border of the two countries.
The pair exchanged festive greetings and presents in an annual tradition that has been going since 2002.
Father Frost gave Finland's Santa Claus, who is known as Joulupukki or 'Yule Goat', a book with a picture of Russian President Vladimir Putin on the cover.
The two men could be seen practising their sleigh riding skills before heading off for the Christmas night rush.