Dozens killed in rebel attack on tribal villages in India's Assam state
Comments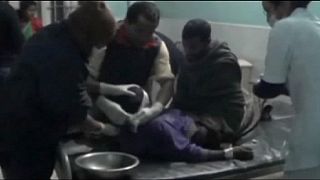 More than 60 people have been killed in an attack by separatist rebels in India's north-eastern Assam state.
Two villages of mainly tribespeople who worked in the local tea gardens in Sonitpur and Kokrajhar districts were attacked late on Tuesday.
Those who escaped described how armed rebels forced open the doors of their huts and opened fire, pulling some villagers out and shooting them.
Police have blamed the killings on the National Democratic Front of Bodoland (NDFB) who want an independent homeland.
Those who were attacked were tribal settlers known as Adivasi who migrated to Assam more than a century ago.
India's Junior Interior Minister Kiren Rijiju condemned the attacks, saying: "This is a tragic incident, we cannot take it lightly. The requirement is that the confidence of the local people, the common people must be restored and we ensure that such incidents are not repeated again."
Following the attacks, groups of Adivasis demonstrated outside a police station in Sonitpur, where 26 of the victims died. Police opened fire, killing three people.