Berkeley police shooting victim Antonio Martin had a gun, says mayor.
Comments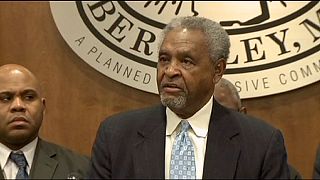 The mayor of Berkeley, the suburb of St. Louis, Missouri where an 18-year-old black teenager was shot dead by a white police office overnight on Wednesday, said the incident was different to the fatal shooting in Ferguson because, he said, this teenager had a gun.
"I had the opportunity last evening to review the video of the incident," said Theodore Hoskins, Mayor of Berkeley, adding: "And what I saw in this incident, is not what people portray. There was a gun pointed at the officer before the officer fired. But we've got to complete our investigation before we take a position."
The mayor said that in contrast to neighbouring Ferguson more than half of Berkeley's police force is black.
Fireworks were set off at the petrol station where 18-year-old Antonio Martin was shot as around 300 protesters gathered.
Micheal Brown, also 18 was gunned down in Ferguson in August.