Presidents of Central Asian states meet for security talks in Moscow
Comments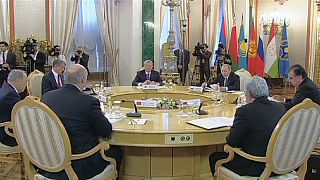 The presidents of five Central Asian states have met at the Grand Kremlin Palace in Moscow for talks on security.
Armenia, Belarus, Tajikistan, Kyrgyzstan and Kazakhstan along with Russia are all part of the Collective Security Treaty Organisation which is a mutual defence alliance.
Topping the agenda was the situation in Afghanistan and the threat of Islamic State fighters trying to spread into the region.
Russian President Vladimir Putin said: "The situation in the world is changing dramatically. New problems are appearing, as well as the old ones escalating. Unfortunately there is a deterioration of global security. Terrorist and extremist groups are already trying to spread into Central Asia. So with these conditions, the CSTO member states need to have adequate, preventive measures ready."
The CSTO will discuss how to help Tajikistan reinforce its border with Afghanistan to stop terrorists and drug-traffickers getting through.