Forbidden fruit: What renewed US-Cuba ties could mean for the cigar industry
Comments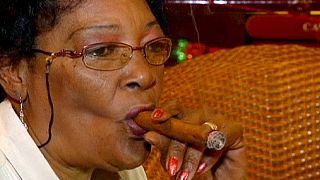 The cigar is one of Cuba's most iconic products, and remains forbidden fruit in the USA.
Milagros Diaz has been rolling habanos for 48 years and is thrilled the US market could finally be opening up.
"Yes, it is going to help the economy of the Cuban people in general because this is what we have all been waiting for, that they finally make up their minds and that they finally notice that we all have our hearts opened to all Latin Americans and all Americans and the whole world," beamed Diaz.
Although the US and Cuba have renewed diplomatic ties, the economic embargo remains intact, but many are seeing this as the beginning of the end of economic isolation.
Cuban cigars are considered some of the best in the world but have remained off limits to Americans, but could their appeal be in their taboo status?
"Maybe it's the hype that because it's been illegal for the past few years, but eventually it will be like every other cigar in the United States," explained cigar aficionado Kamel Salam in New York.
Cuba's government predicts that sales from rum and cigars to the US could allow them to pump around 200 million euros per year into social welfare programmes.