The presidents of Kazakhstan and Ukraine hold talks in Kyiv
Comments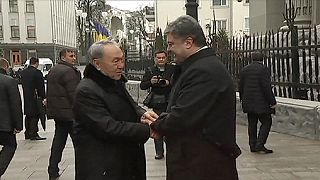 The president of Kazakhstan has met with his Ukrainian counterpart in Kyiv for talks.
Nazarbayev congratulated Poroshenko on holding elections and forming a government despite the war in eastern Ukraine.
He also confirmed his support for Ukraine and said he hoped the conflict could soon be resolved.
"Adressing both Russia and Ukraine, we want to say that it is important to look for a compromise to come out of the current situation with Ukrainian territorial integrity preserved. Common ground needs to be found. This situation is a nonsense. It is not right," Nazarbayev said.
Poroshenko responded, thanking Kazakhstan for its help.
"Kazakhstan has shown strong support to Ukraine, including helping our financial sector. I think it is very important to boost cooperation in other areas too," he said.
Nazarbayev will now travel to Belarus for a trade bloc meeting with President Lukashenko and Russian President Putin.