Oh cloned Christmas tree, your leaves are so duplicated
Comments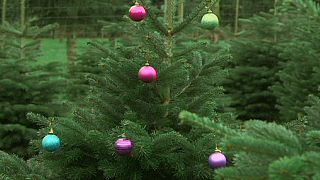 Finding the perfect Christmas tree can be a chore.
Tall, short, full or sparse there are trees to suit all tastes in Denmark which is the world's largest producers of yuletide saplings.
Christmas tree producer Bernt Johan Collet explains the complex tastes of the European market:
"Christmas-trees are like humans, they come in all shapes and sizes. But a supplier wants symmetric trees, because you don`t want to throw away half of them. The French want a little tree, like this one.The Dutch and the Danish want a tree with some space between the branches. Because they can put the decorations in between."
Until now a natural process of selection was used to create virtually identical trees.
But now researchers at the University of Copenhagen are developing a cloning method that would mean that within a few years all trees would look alike.
A special robot selects the best tree seeds, clone them and reproduce them with hormones, but it seems beauty is still in the eye of the beholder.
"It needs to be green, completely symmetric, beautiful and also ecological," said one customer on the hunt for the perfect tree.
The search for symmetricity could kill the tradition of hunting for that perfect tree, but maybe Mother Nature will have the last laugh.