Polls open in Tunisia's landmark presidential election
Comments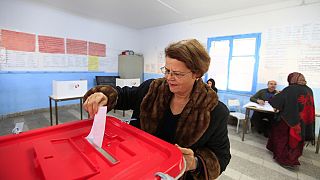 Polls opened on Sunday (December 21) in Tunisia for a second round of presidential elections nearly four years on from the Arab Spring uprisings.
The revolt ousted the autocratic former President Zine El-Abidine Ben Ali.
A new constitution and full parliament were elected in October 2014. Sunday's landmark vote is considered the transition to full democracy.
Local businessman Samir Rekik was optimistic about the elections.
"We're waiting for Tunisia to be dynamic again, to take back the place it held for many years and to regain its geopolitical importance in the Mediterranean area", he said.
The run-off vote is between a former Ben Ali official and the incumbent, who claims he is running in order to defend the legacy of the 2011 revolution.
Beji Caid Essebsi, the veteran leader of the secular Nidaa Tounes party, was a parliament speaker under the previous regime. He has dismissed critics who fear a return to Tunisia's old order.
Essebsi narrowly beat his opponent Moncef Marzouki in the first round of elections.
Human rights activist Marzouki has warned that a return of officials from the Ben Ali's era would go against the revolution that led to democracy.
International observers were overseeing the vote and there was also a heavy security presence at some voting stations.
The night before the elections, a gunman in Kairouan, central Tunisia was killed after opening fire on a polling station. Three others were arrested.