Tunisia's next president: old regime veteran or former exile?
Comments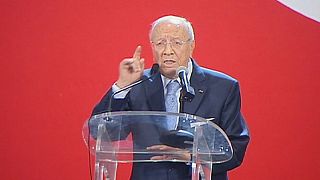 Founder of the Nidaa Tounes party Béji Caid Essebsi and interim President Mohamed Moncef Marzouki are heading for Tunisia's presidential run-off vote next month.
Essebsi was briefly prime minister in the year of the Arab Spring uprising, and previously interior and defence minister and ambassador to France and Germany.
Marzouki is running as an independent candidate.
This follows the general election in October when Nidaa Tounes won the most seats in parliament, beating the Islamist party Ennahda that won the first free poll in 2011.
Essebsi, on the eve of his 88th birthday, used to be a parliamentary chief when President Ben Ali ruled Tunisia. He presents himself as the experienced transition statesman the country needs. He denies involvement in the abuses of the old regime. More than three years since Ben Ali's overthrow, Tunisia's rival secularists and Islamists have largely avoided the turmoil that has plagued other Arab states swept by popular revolts.
The Islamists Ennahda have not put forward a presidential candidate but they and Marzouki, 69, encourage each other.
Marzouki describes Sunday's vote as a ballot against the return of one-party era figures like Essebsi.
The ascent of former ministers and other old members of Ben Ali's RCD party is worrying some critics — Marzouki among them — who say they fear their return would be a setback for the revolt against one-party rule and endemic corruption.
From France, Marzouki ran a political party banned by Ben Ali, returning from exile after the Tunisian Revolution, later ending the state of emergency rule and cutting his presidential pay by two-thirds.
Ennahda led the post-uprising government but sought to forge a new constitution veering towards Islamism, reacted weakly to extremists fighting security forces and did little for the economy. Yet bowing to national demands, Tunisia's moderate Islamists left government voluntarily to let a technocratic team run things.
It was the post-uprising Constituent Assembly that elected Marzouki interim president. His career before that included human rights work and medicine in France and Tunisia, and the study of Gandhi's non-violent resistance in India and of apartheid in South Africa.