Gravity: Goergl clinches Val d'Isere super-G as Vonn crashes out
Comments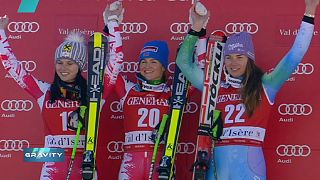 Welcome to Gravity, our weekly show dedicated to Alpine skiing.
Austria's Marcel Hirscher continued his good run of form at Alta Badia this weekend while compatriot Elisabeth Goergl proved too strong for her opponents in Val d'Isere.
Former world champion Elisabeth Goergl clinched the women's World Cup super-G in one minute and 25.42 seconds. Anna Fenninger held her nerve to complete an Austrian one-two while Slovenia's Tina Maze had to settle for third place, 0.13 off the pace.
America's Lindsey Vonn was forced to abandon after crashing into a gate while Swiss skier Lara Gut, who was looking for her second super-G win of the season, just missed out on a podium finish.
Hirscher shines in Alta Badia
Austria's Marcel Hirscher kept his composure to claim the men's giant slalom in Alta Badia for the second successive season.
The three-time defending overall champion beat Ted Ligety by a large margin to post his third career win on the Gran Risa course.
Extending his first-run lead, the 25-year-old clocked a two-run time of 2 minutes, 30.17 seconds to secure the win with Thomas Fanara of France completing the podium.
Skiing past
It's the 17th of February 1968 and France's Jean-Claude Killy is about to make history at the Grenoble Games. The experienced skier, who had previously won the downhill and giant slalom, overcame thick fog to cross the finish line in a combined time of 99.75 seconds. His nearest rival Karl Schranz looked set to take gold after clocking the fastest time but it wasn't to be for the Austrian as he was eventually disqualified for missing a gate. The jury's decision meant Killy had secured his third gold medal of the Games, a feat achieved only by Toni Sailer of Austria in 1956.
Analyse this
After Jean-Claude Killy and Luc Alphand, Alexis Pinturault is now bidding to become the third Frenchman to claim the Word Cup. The 23-year-old is currently lying in fifth place in the overall standings and might have what it takes to top the podium according to former Olympic champion Franck Piccard.
The Frenchman explained: ''I think Alexis may go all the way this year. He has enjoyed a solid start to the season despite having to adapt to new ways of training. His strength enables him to shine in numerous disciplines which gives him an advantage over his opponents. It has been a pleasure watching him this season and I believe that if he keeps progressing, he has great chance of finishing on the podium. I would like to see him win it but let's not put too much pressure on him. Alexis is extremely talented so who knows what he's capable of achieving this season?''
Alexis Pinturault and his rivals will next battle it out in Madonna di Campiglio on Monday so join us next week for more World Cup events. In the meantime we end the programme with some of the best moments from the weekend's action, it's snowtime!