Vatican Christmas tree lights switched on in St Peter's Square
Comments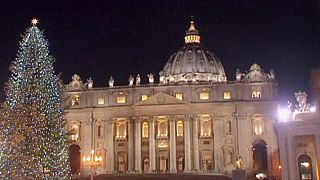 There is less than a week until Christmas and the Vatican has switched on the lights on its tree in St. Peter's Square.
The governor of Vatican City said he hopes the lights "illuminate everyone's hearts" and explained that the nativity and crib "send a message of love".
Pilgrims and tourists travelled to the Holy See from Italy and around Europe.
"It is the symbol of Christianity," said tourist Vanna Bono. "We have both the sacred and the secular here: the Nativity scene is Christian, while the tree is a secular tradition."
"It is a tradition that unites the family in this moment to celebrate it," explained Sabina Vargas, who travelled from Barcelona. "It is a tradition, but is also a way to get the family together for this simple act of decorating a tree, which is surely something symbolic."
What perhaps seems like an ancient tradition of putting a tree in St. Peter's Square is actually quite a recent custom. It began when Pope Saint John Paul II introduced it in 1982.