Turkey issues arrest warrant against US-based cleric Fethullah Gulen
Comments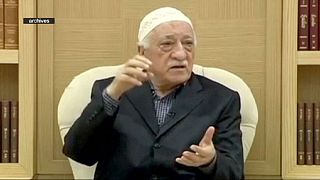 A Turkish court has issued an arrest warrant for US-based cleric Fethullah Gulen.
Gulen, a one-time ally of the Turkish President Recep Tayyip Erdogan, is now accused of leading a terrorist plot to overthrow the government – a claim he denies.
Gulen's supporters gathered outside the Justice Palace in Istanbul on Friday to protest against a crackdown on perceived supporters of the cleric.
Over 20 journalists were arrested last weekend. Eight of them were freed on Friday including editor-in-chief of Zaman newspaper, Ekrem Dumanli.
"We testified to the prosecutors all night long. In the end, I asked the prosecutor- if the reason for the treatment that we are exposed to for days is these two articles and a news story? He said 'yes'," said Dumanli.
Others, including a TV executive, are being kept in custody pending trial on charges of belonging to a terrorist group.
The investigation has been condemned by the EU and the US as a blow against the freedom of the press.